Learn why Photodigm's Transmitter Optical Sub-Assembly (TOSA) Package is so sought-after by prestigious Universities and National Labs using our Distributed Bragg Reflector (DBR) laser diodes. Here are the Top 10 Reasons why a TOSA is preferred!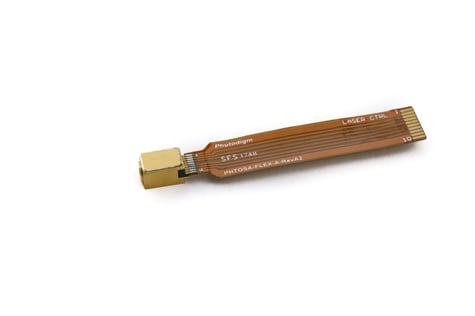 Compact Package Size
10 mm x 5.8 mm x 5.2 mm
Easy to Handle
Its rugged metal package provides ease and safety during proper handling.
Dynamically Excellent Thermal Performance
Specialized for heated or cooled laser operation, because the laser diode carrier is directly soldered on the thermoelectric cooler (TEC) side, it can dynamically change temperatures the quickest of all Photodigm's packages and can cool DBR laser diodes down to -10°C.
Accommodates Photodigm's Mode Hop Free (MHF) Mounting Add-On
This package is compatible with Photodigm's mode hop free (MHF) submount that greatly extends the tuning range of the DBR laser diode.
Accommodates Photodigm's Virtual Point Source (VPS) Lens
Photodigm's Virtual Point Source (VPS) microlens provides an integrated laser diode optics solution to decrease astigmatism and improve the circularity of the DBR laser diode's single-mode spatial output beam. The circularity of 1.0–1.2 (slow-axis (θ∥)/fast-axis (θ⊥) diameter ratio is improved by reducing the fast-axis divergence (θ⊥).
Hermetic Sealing
This package is hermetically sealed with dry N2/He filling gas, per MIL-STD-883 to better than 5 x 10-8 atm-cm/sec (air) thereby increasing the wavelength tuning range of the product.
Easy Connection
Its flex cable is compatible with Zero Insertion Force (ZIF) connectors such as Molex's 0526101072.
Test Fixture/Heat Sink
The TS-2000-A Transmitter Optical Sub-Assembly (TOSA) Laser Diode Package Test Fixture perfectly holds the TOSA package allowing optimal benchtop and thermal performance. The TS-2000-A provides a conventional 15-Pin D-SUB Male Pin Out (Temperature Controller) and 9-Pin D-SUB Male Pin Out (Laser Diode Driver). Cables are not included.



Value
As only a $500 add-on the TOSA package characteristics and capabilities provide users with significantly increased performance for their demanding DBR laser diode applications.
Emission Position Allows Easy Alignment and Positioning
Height 2.60, ±0.245 mm; Width 2.90, ±0.1mm; Clear Aperture: 1.8 mm

For Additional Information Contact Sales at:
Lawrence Fudge, Head of Sales at Photodigm
lfudge@photodigm.com

Paul Golata, Regional Sales Manager at Photodigm
pgolata@photodigm.com

Follow Us on LinkedIn @Photodigm