Richardson's semiconductor industry aiming for growth in 2023
Written by Jackson King
Community Impact Magazine on May 10, 2023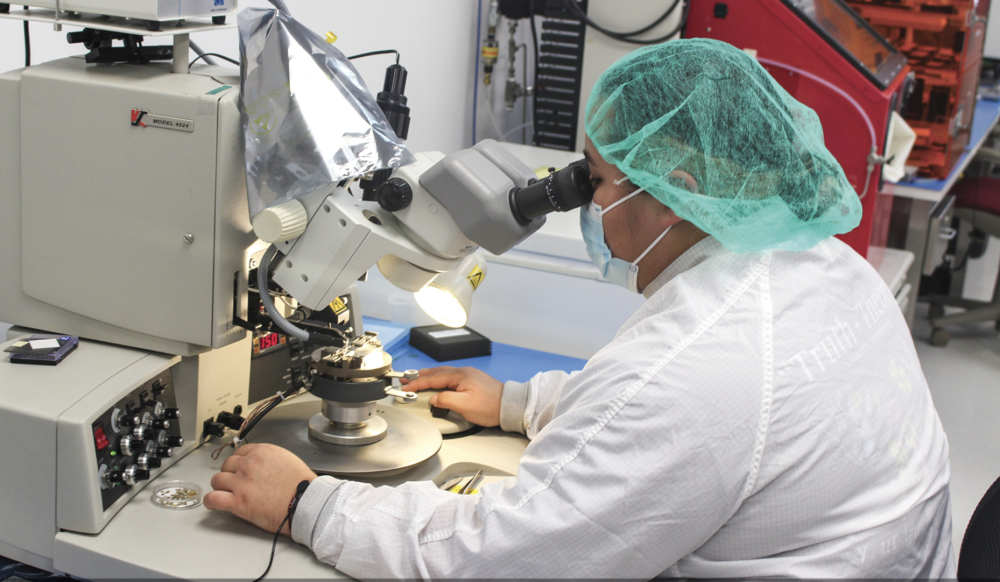 Employees at Richardson-based Photodigm manufacture specialty semiconductor chips that are used in a number of industries ranging from biomedical uses to defense and environmental technologies. (Jackson King/Community Impact)
Among the many technology businesses in Richardson, the semiconductor industry is set for continued growth that officials said will benefit the city through national security initiatives and keeping residents' property tax bills lower.
The industry's growth has greatly benefited Richardson's tech-friendly business ecosystem, which has been defined by the rise in semiconductor production, Mayor Paul Voelker said.

"These [semiconductors] provide tools or software aiding our [other] local businesses, so it's a significant industry for Richardson," he said.

One of the ways the industry is expected to drive future growth in the city is by expanding local semiconductor production through the use of federal funding.

Signed into law last year by the federal government, the Creating Helpful Incentives to Produce Semiconductors and Science Act, or CHIPS and Science Act, is a bipartisan legislative package designed to create more jobs and lower production costs for semiconductor companies, including those in the Dallas-Fort Worth area.
It will provide $52.7 billion for American semiconductor research and development, manufacturing, and workforce development.

Since the passage of the act, U.S. Rep. Colin Allred, D-Dallas, has met with several local businesses that create semiconductor chips to gauge the region's need for federal funding.

"We want to be self-sufficient in terms of creating our chips and make sure the next-generation chips are made properly," he said during a visit. "We need to scale up and make sure that we can expand the use of the [technology] that's going to have huge implications for our economy and for national security."

One local company eyeing the federal funding is Photodigm, which develops speciality chips used in a variety of biomedical, sensing, environmental and defense technologies. The company was founded in 2000 as a spinoff of research at Southern Methodist University.

CEO Bill Stuart said utilizing federal funding would allow smaller companies like his to better compete with larger companies. He wants to expand operations at Photodigm's headquarters by building a high-scale semiconductor fabrication facility, acquiring specialty equipment and hiring more employees.

"Even though we've been around a long time, there has been a limitation for us to really go out and make a name for the technology … because we are limited by capital," Stuart said.

Importance of semiconductors

Since the invention of the transistor in the 1940s, the semiconductor industry has become a key component of daily life in the digital age, according to Voelker.
… continue reading this article at CommunityImpact.com
###
ABOUT PHOTODIGM, INC: For over 20 years Photodigm, Inc. has been the only 100% U.S.-based semiconductor manufacturer of single spatial and longitudinal mode Distributed Bragg Reflector (DBR) laser diodes. DBR lasers are essential to quantum sensing and atomic clock manufacturers, optical metrology and sensing, and laser spectroscopy. Headquartered in Richardson, Texas, they design and produce fixed wavelength diode lasers best known for their accuracy and reliability. Learn more at Photodigm.com.